About GoneSeaKayaking.com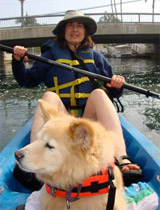 Mary and her dog kayaking in Long Beach Harbor, California
My dog and I loved walking up to five miles each weekend somewhere in our local area. When the long walks became too difficult for an aging pup, we took up kayaking. I had been on a kayak a few times before, including battling heavy beach surf to reach the ocean, which proved to be a scary and exhilarating experience for me. When friends suggested kayaking with our dogs, I was a bit apprehensive, but Newport Back Bay, California, proved to be the perfect spot. The details of our first encounter can be found in this article entitled "Kayaking with My Dog at Newport Back Bay, California".
GoneSeaKayaking.com was launched out of the joy of being out in nature, and is meant to provide an online community where recreational kayakers of all skill and interest levels can converge to provide and receive information on everything kayak-related throughout North America and throughout the world.
We welcome your input on events, classes and any resources to help paddlers get in boats and on the water! If you like to write or take photos, we'd love for you to submit your work. We'll regularly add articles from our members. Send us your trip reports, tips and techniques, personal experiences, book recommendations, upcoming event info… we'll do our best to post relevant articles and current information. If you have useful content and/or helpful suggestions for GoneSeaKayaking.com, tell us about it here...