Paddling the world one stroke at a time
It's the Great Pumpkin, Charlie Brown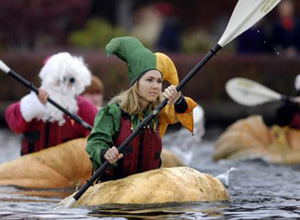 Autumn is here, but don't put away your paddle. "It's the Great Pumpkin, Charlie Brown," or maybe it's just time again for the giant pumpkin kayak and canoe regattas.
In the past few years I've seen more of these crazy events popping up around North America. They're particularly appealing to me because they combine my favorite hobbies, growing vegetables, kayaking and supporting worthy causes.
So here's how these regattas work:
First, find a group of giant pumpkin growers. (When you start to look, there are more growers than you'd think! They have their own contests to see who can beat local, regional or world records for these ginormous squashes).
Second, get a bunch of kayakers or canoers who are crazy enough to paddle these humungous veggies that tend to turn in circles or roll upside down with great regularity.
Third, select a great local charity to support and send everyone out to solicit sponsors for the event and/or individual paddlers.
And last but not least, pair up paddlers with pumpkins and set them afloat. But be sure to have lots of rescuers on hand. It's the exceptional contestant that actually stays upright.
Post Date: 9/23/2011
All of the content presented on www.goneseakayaking.com is for informational purposes only. GoneSeaKayaking.com does NOT endorse any entity listed on and/or hyperlinked to from this website. Usage of this website constitutes acceptance of all terms of use. Terms of use subject to change without notice.