Kayaking with My Kids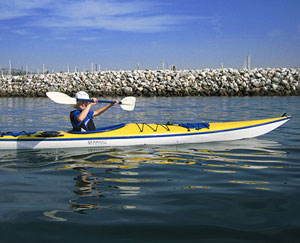 [To update... the now 10-year-old has his own kayak, the Eddyline Nighthawk 16. We got a nice deal on a used boat from our friends at Xstreamline Sports, and he's motivated to build up his skills and stamina to paddle his own boat on a multi-day kayak camping trip.]
First off, I have to brag – my 9-year-old son has now mastered the use of my Seaward Endeavour, a Greenland-style kayak that according to Seaward has a "shallow 'V' hull and sufficient rocker to offer paddlers great maneuverability yet uncompromised tracking." In other words, not a lightweight, easy-paddling, nearly-impossible-to-tip boat like Ocean Kayak's Kea.
Although he was practically raised on the water – he's been paddling in a tandem with dad since he could barely walk – it was time to get him on his own. We spent the morning paddling around Cabrillo Beach and the nearby marina, and finished the trip with lots of splashes and giggles as he practised wet exits and readied himself for our next venture, out to open ocean waters.
I'm sharing this story in the hopes that those of you paddlers who have kids will make sure to get your kids out on the water. If you're not a paddler (yet), what a great activity to do with the entire family.
Post Date: 1/27/2011, Article by: Ann Carpenter
Featured Products