Kayaking Venice Italy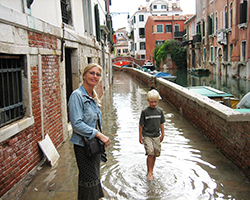 In the fall of 2006, my family and I traveled to Venice, a place I had wanted to visit my entire life. We rented a wonderful apartment (through the rental agency Views on Venice) on a quiet canal in the Cannaregio sestieri, just north of the Rialto Bridge.
As we'd walk every day over "our" little bridge, I'd sigh and exclaim, "I wish we could have brought our kayaks." In preparation for our trip, I searched exhaustively online for a kayak rental or tour company in Venice, but with no luck. It seemed unfathomable to me that no one was offering kayak trips in Venice and to the numerous islands in Laguna Veneta.
Post Date: 9/2/2009, Article by: Ann Carpenter
Featured Products