Kayaking Peche Island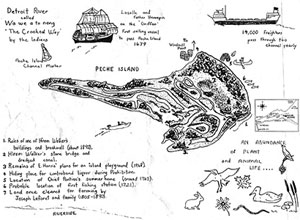 Located in the Detroit River just south of Lake Saint Clair, Peche Island is an uninhabited 86-acre park owned by the City of Windsor. Laced with canals and trails, this jewel is home to a variety of waterfowl and even Peregrine falcons and bald eagles. And thanks to the continuing conservation and cleanup efforts by organizations such as the Detroit River Canadian Cleanup (DRCC) and the Metropolitan Affairs Coalition's (MAC) Detroit Heritage River Water Trail,* kayakers can better enjoy the surrounding waters of the Detroit River.
If you're kayaking from Windsor, the paddle is less than 1/4 mile (330 m). It is 1.2 miles (1.9 km) east of Belle Isle on the US side of the border. You can launch from Belle Isle Beach or Reid Ramp in Detroit. Remember that travellers on recreational boats crossing to Canada have to call a Canada Border Services Agency (CBSA) Telephone Reporting Center (TRC) before leaving US waters to obtain authorization to enter Canada at 888-226-7277. For more information, go to the Canada Border Services Agency.
Post Date: 8/21/2009, Article by: Ann Carpenter
Featured Products