Kayaking Los Angeles, California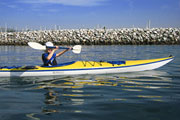 For anyone interested in paddling around the waters of Los Angeles, there are several places that I recommend, and all of them have rental facilities.
I like kayaking in Marina del Rey because of it's size, although there tends to be quite a bit of boat traffic. You'll see lots of beautiful boats of all sizes, plus seals and pelicans.
If you have your own boat, you can launch at the east end of Mother's Beach (off Palliwan Way, near Escobar's Mexican Restaurant. There is a public parking lot across the street - $6 on weekends.)
For renters, there's a place in Fisherman's Village:
Post Date: 8/19/2009
Featured Products