Paddling the world one stroke at a time
Kayaking Salt Spring Island to Wallace Island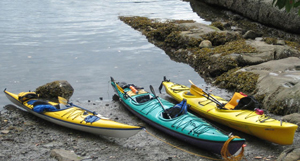 When I think about kayaking in the Gulf Islands of British Columbia, it's hard to know where to begin to write. There are so many amazing kayaking destinations, you could spend a lifetime paddling and not exhaust your choices – serene coves, rocky points with washing machine-like cross currents, scenic harbors dotted with float planes and pleasurecraft, or open channel crossings to distant shores.
Salt Spring Island (or Saltspring Island), the largest of the southern Gulf Islands, is nestled against the eastern shore of Vancouver Island, just a short ferry ride from Victoria, BC. Though the most populated in the island chain, Salt Spring is my idea of Shangri-La. Organic farms, heirloom apple orchards, artisans in every trade, and a mild coastal climate that allows paddlers to be on the water nearly year-round.
A great day trip from the island is the short crossing from Salt Spring's Southey Point (or Fernwood) to Wallace Island. For the less-experienced paddler, there's the opportunity to make an open water crossing that's very protected from the elements and doesn't have any big ferry traffic that you have on other island-to-island paddles. Plus you get to explore the varied shoreline of Wallace Island with its sand bars and rocky shores.
Post Date: 2/8/2011, Article by: Ann Carpenter
All of the content presented on www.goneseakayaking.com is for informational purposes only. GoneSeaKayaking.com does NOT endorse any entity listed on and/or hyperlinked to from this website. Usage of this website constitutes acceptance of all terms of use. Terms of use subject to change without notice.