Cool Kayaking Online Training Resources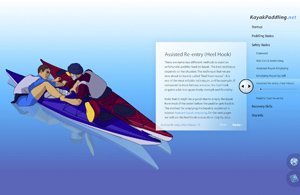 On the other hand, if you're the type of learner that needs to read and reread every detail before you put your toe in the water, then Kayarchy.co.uk might just be the resource for you.
Kayarchy is a free online handbook of sea kayaking – more than 400 pages on everything from equipment checklists to understanding waves and weather conditions. In addition to website author Nicholas, most contributors are British. But the site is continually expanding and includes input from French, New Zealand and U.S. authors.
And don't forget to check out YouTube for a quick lesson or demonstration of a technique you'd like to learn. Check out the video at the right by Sea Kayaking Skills and Adventures, Ltd. to get you started.
Post Date: 10/27/2010, Article by: Ann Lee
Featured Products