Kayaking Along the Amalfi Coast of Italy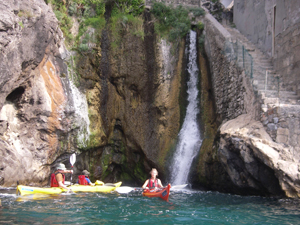 The Amalfi Coast is famous the world over for amazing sea views and cliff-hugging villages. National Geographic Traveler, in rating the Costiera Amalfitana as one of 50 of the world's most amazing places, stated, "The coastline around Amalfi is quite simply breathtaking. Cliffs plunge steeply into the azure sea with picturesque villages perched on their rocky sides, some of which until recently, were only accessible by boat. The views out across the Mediterranean Sea are stunning and this piece of coastline can quite rightly justify its claim to be one of the most scenic stretches in the world."
Most tourists see this breathtaking coastline from hair-raising, traffic-choked bus rides. But there's a better way to experience the true beauty and serenity of the Amalfi Coast – from a kayak, of course!
On a recent visit to Positano, Italy we had the opportunity to take a tour with Amalfi Kayak. Our guides, Mariella and Gildo led us along the coastline few tourists get to see. Our morning began with a short crossing of Amalfi's bay, dodging pleasure boats and ferries carrying tourist to and fro. We soon got into the rhythm of paddling as we passed secluded villages and ancient towers. The morning was quite hot and windless, so we welcomed the refreshing spray of Marmorata waterfall. Minori and Maiori, the next two villages we passed, were slightly less spectacular, but our efforts were soon rewarded with a mid-morning break at Cavallo Morto (unfortunately named Dead Horse, where in ancient times, locals dropped their expired steeds), a dramatic cove, accessible only by water. We floated along in the crystal-clear salty sea, and snacked on fresh fruit.
Post Date: 7/29/2010
Featured Products