Kayaking Along the Amalfi Coast of Italy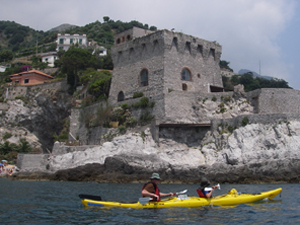 Though U.S. based companies, Northwest Passage ($4,995 per person, 7 nights, 5-6 days of kayaking) and H2Outfitters ($4,950 per person, 8 nights,5 days of kayaking) both offer Amalfi Coast excursions, I prefer to support a local business, and to enjoy the local knowledge and insight that Mariella and Gildo of Amalfi Kayak are able to provide. Our cost for the day was 270 Euro for the three of us. Mariella and her team will put together customized itineraries based upon your interests, time available and level of skill – I highly recommend her!
In bocca al lupo, Mariella!
Resources for Kayaking in Italy
Post Date: 7/29/2010
Featured Products