Kayaking Along the Amalfi Coast of Italy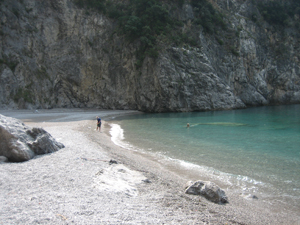 It was difficult to pull ourselves away from such a pristine pebble beach, but we continued on to paddle alongside jagged cliffs through waters ranging from pale aqua to deep inky blue. For me, the highlight of the trip was kayaking in the emerald-hued depths of Grotta Pandora, surrounded by columns of stalactites and stalagmites, hearing every drop of water echo in the recesses of the cave. Every season, thousands of tourists jockey for position to get a glimpse of the azure waters of the famous Blue Grotto of Capri, and here we were, marveling at the wonder of our own private grotto.
Our final destination as we headed east was yet another beautiful beach near the village of Erchie. We enjoyed a leisurely break with a picnic lunch and snorkeling amidst swaying sea grasses. With the afternoon winds starting to pick up, we reluctantly decided it was time to retrace our journey back to Amalfi. Luckily, the winds weren't strong as we paddled the six miles of coastline.
For a significant portion of our journey, Mariella let me paddle her sleek, Greenland-style fiberglass kayak, the Kaylhoa, hand-built in Italy, though the standard rental kayaks are the single kayak, Furano, manufactured by Resivetro and the double kayak, Atlantis Expedition by Rainbow Kayak. I had a lot f fun testing out her hand-built lightweight wooden Greenland paddle – a first for me.
Post Date: 7/29/2010
Featured Products